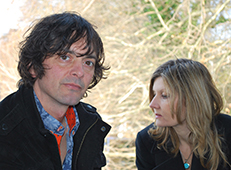 Who (are they)?
Mark Moogalian : voice, guitars, keyboards, drums, trumpet, musical saw
Isabelle Risacher : voice, keyboards, flutes

What (do they do)?
Franco American alternative music duo with pop, rock and blues influences, a bit urban folk some people say, having already released four albums between 2011 and 2016: On Our Own, Paris Rain Dances, The Answer and love is the only game in town.

Each of the four albums has its own personality with common themes: travel in time and space, and through human emotions, life questioning and identity crises... Psychedelic accents, true retro, pure blues, authentic rock or more seasoned with punkish spices, trip-hop intonations...
The lyrics are original, poetic, light or more spirited, melodies both rhythmic and airy: eclectic guitars, shifting rhythms, mysterious keyboards, and beautiful vocal harmonies.

They both sing, the lead vocal is man then woman, harmonies complete and echo each other, fire and ice, water and air, and back to earth.

Their latest album, love is the only game in town, comes out in the Spring of 2016!

Where (to find them)?
Their Music is available at:

cd baby : http://www.cdbaby.com/cd/secretseason4

amazon : https://www.amazon.com/s/ref=nb_sb_noss?url=search-alias%3Dpopular&field-keywords=secret+season+love+is+the+only+game+in+town&rh=n%3A5174%2Ck%3Asecret+season+love+is+the+only+game+in+town

iTunes : https://itunes.apple.com/us/album/love-is-the-only-game-in-town/id1106321581

All songs © Secret Season 2016

How (to talk to them)?
MARKMOOGALIAN.COM
contact@secret-season.com

Find us on Facebook